Once you've used one of our meeting spaces there's no turning back!
Our 5 meeting spaces can accommodate anywhere from 4 to 40 guests and are wired with every conceivable technology enhancement, including:
Free WiFi
Fast and secure, with burstable bandwidth
Location
All the amenities of Ballantyne Corporate Park and the surrounding area
Secure
Corporate Business Park security, patrolled nightly, cameras on site
Kitchen
Beverage and catering services available
Professional
Business machinery: fax, scanner, copier, wireless networked
Full Access
24×7 access, triple checkpoint security
(Up to 4 people): $35/hr, $175/day
The perfect business-ready, private office for when you are in between meetings, need to be close to clients or prospects, or require professional place to work.  Hands-free speaker phone and hi-speed internet included. 
Available by the hour, day, week, month, or year.
Interior Conference Room
(up to 6 people): $45/hr, $225/day
An ideal place for small team or client meetings, brainstorming, and planning. We have a portable 50" display for multimedia presentations, white board, hi-speed wi-fi and speaker phone for audio conferences.
Exterior Conference Room
(up to 6 people): $55/hr, $275/day
Fully equipped with 52″ Hi-Def wall-mounted LCD display for PC inputs and Hi-Def Videoconferencing. Great for small client meetings, team meetings, and sales presentations This room has wonderful natural light and views.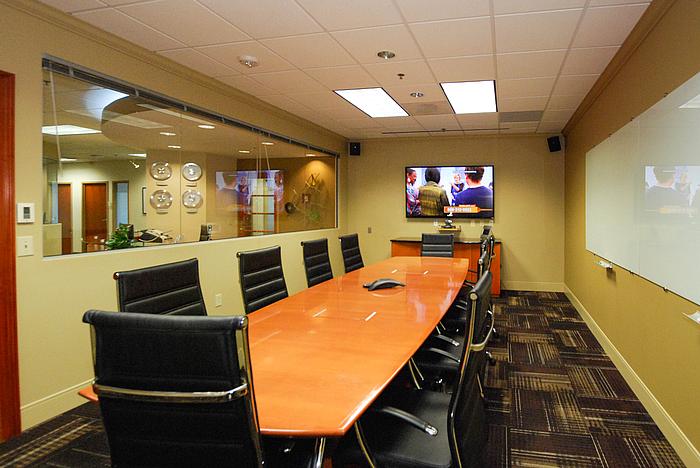 Boardroom
(up to 12 people) $75/hr, $375/day
Exquisitely appointed venue ideal for executive meetings, sales presentations, and large client meetings. Custom built conference table with AC power at the table top, fully equipped with a 70" wall mounted display for pc presentations, hi-speed wired (or wi-fi internet connectivity), Polycom hands-free speaker phone and Polycom Hi-Def videoconferencing equipment. Perfect when you want to impress!
Seminar Room
(up to 40 people): $300/ half-day, $450/day
Perfect for large gatherings, training seminars and public speakers. This room is equipped with a "wall to wall" whiteboard, ceiling mounted projector, 100″ projection screen and six ceiling mounted speakers. We can configure this room to meet your specific seating requirements.
Floor Plan
Additional Features for Every Office
Individual Offices
Business-ready workspace featuring professional furniture, an enterprise-grade technology and telephone platform, receptionist services and more.
Team Offices
If collaboration is what your business requires, Team Offices are the perfect solution! Let us help you design the ideal, cost-effective set-up for your team of programmers or other workgroups!
Common Area
We have over 8400 SF of meticulously maintained common areas including a beautifully appointed and professionally staffed reception area, two fully maintained kitchen/cafes, two business lounges with soft seating and/or bar height work surfaces. Wi-Fi throughout.