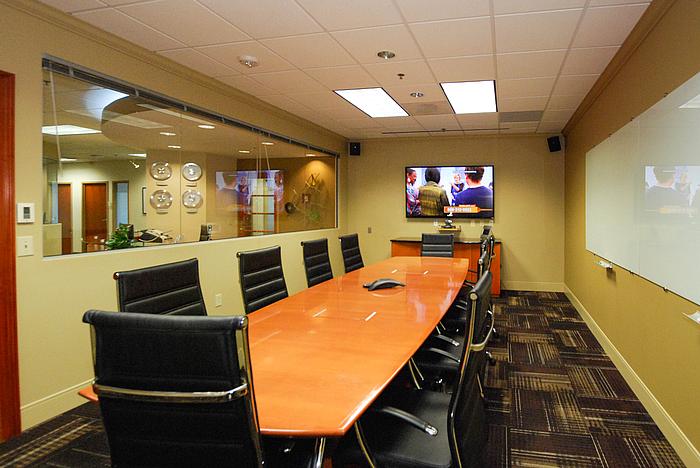 When you need meeting space in Ballantyne for all your professional needs, our offices at YourOffice-Ballantyne can accommodate small or large groups. Our offices come in a range of configurations, whether you need a boardroom for numerous people or a smaller office to get work done on your own. Our amenities ensure you have the best experience when you work with us for your professional needs in Ballantyne Corporate Park!
 Meeting Space with Free Wi-Fi, Including Wireless Machinery
 We provide the reliable, high-speed Wi-Fi connection you need to get your work done, including all the wireless machinery you need. We offer fax machines, scanners, copiers, and printers, all wireless for easy use at our office space. Our office equipment eliminates the need to purchase and maintain your own machinery. Instead, you can rely on our fully functioning and updated equipment for your convenience.
Excellent Location in Ballantyne Corporate Park
Our excellent location in Ballantyne Corporate Park is close to restaurants, shops, and walking trails to support your creativity. Our South Charlotte location is close to everything you need, making it an ideal meeting space not just for you and your coworkers but for your clients as well. You can even use our address for your business letterhead and have your mail delivered here!
On-Site Security Including Surveillance Cameras
You have 24/7 access to our facility, so we want to make sure you feel safe no matter what time you need to come into the office. That's why we provide on-site security personnel, including surveillance cameras, for your peace of mind. When you access your office space, there's triple-checkpoint security to ensure only authorized visitors are permitted access.
Easy Accommodation for All Your Meeting Needs
YourOffice-Ballantyne accommodates all your professional needs when you take advantage of our office space. We can preconfigure rooms based on what you need, including a unique seating arrangement, technology, and more. Our team can also handle your catering needs to make your next conference even more stress-free. Let us handle the details so all you have to do is show up!
Give Us a Call to Schedule a Tour
Come and check out our facility for yourself by giving us a call to schedule a tour at (704) 259-4110. We know you'll love our affordable, professional meeting space in Ballantyne to support your business goals!