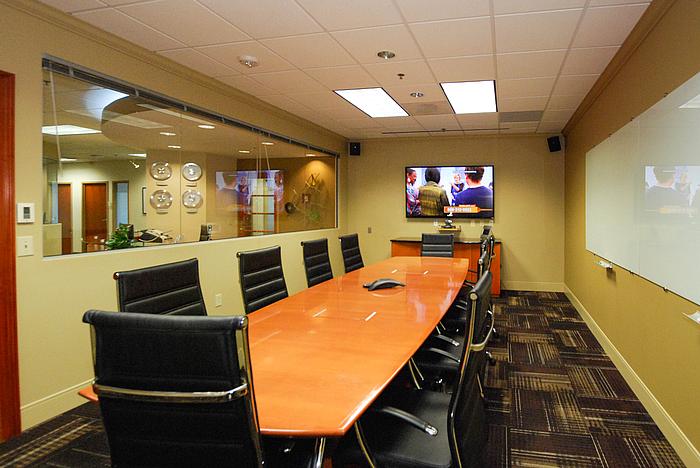 When you need the perfect space to meet with clients or confer with colleagues, YourOffice Ballantyne has a variety of meeting configurations for rent in S. Charlotte.
With five meeting spaces to accommodate up to 40 guests and wired with full technology, you can customize your arrangement to ensure all your business needs are being met with our meeting and conference rooms for rent in S. Charlotte. 
Day Office
 For up to 4 people, this office works excellently as a private office. Whether you need to work alone or meet with clients, these day offices are available by the hour, day, week, month, or year for all your professional needs.
Interior Conference Room
 For up to 6 people, our interior conference rooms are ideal for team or client meetings. They're also perfect for collaborating on projects with coworkers. With the ability to conduct multi-media presentations and a white board along with a speaker phone for audio conferences, our interior conference room has it all.
Exterior Conference Room
 Our exterior conference rooms are also designed for up to 6 people but offer the advantage of an outside view. Each one is fully equipped with a 52-inch wall-mounted LCD display for crystal clear video conferencing. Choose our exterior conference rooms for plenty of natural light for your team meetings or sales presentations.
Boardroom
 For up to 12 people, the boardroom is excellent for executive meetings, sales presentations, large client meetings, and much more. The custom-built conference table ensures there's plenty of room for everyone and a 70-inch wall mount makes PC presentations and video conferencing easy. 
Seminar Room
 Designed to accommodate up to 40 people, the seminar room is perfect for large gatherings, training seminars, and public speakers. With a large wall-to-wall whiteboard, ceiling-mounted projector, 100-inch projection screen and six ceiling-mounted speakers, we make it easy for presentations and ideas to flow naturally. We can configure this room to meet your specific requirements.
Booking a room for a client presentation, collaboration with colleagues, or an office where you can privately work is easier than you think. With the professional office arrangements at YourOffice Ballantyne, you can make any arrangement work for you. Get in touch today to schedule a tour of our offices or to discuss which one would best suit your needs!