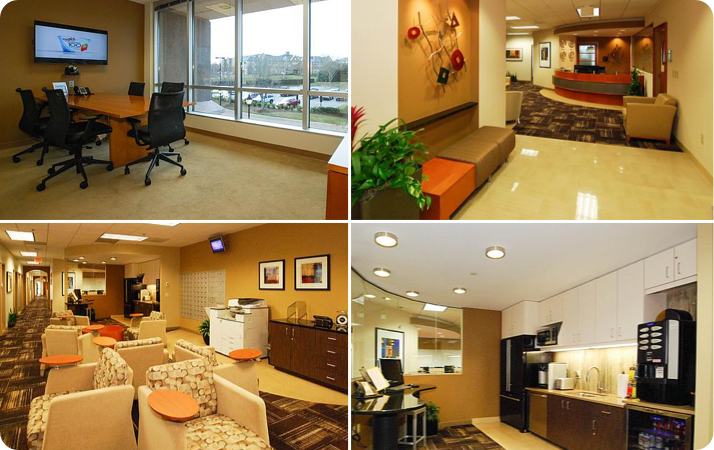 When you need space where you can get work done, consider our offices at YourOffice-Ballantyne.
We offer both plug and play offices and general coworking space so that you can get your work done regardless of what suits your budget and your professional needs.
Each of our spaces still comes with all of our great amenities so regardless of your choice, you can choose confidently with YourOffice-Ballantyne.
Plug & Play Offices

Plug and play offices allow you to have access to a private space in the size of your choosing. Here, you can work solo or collaborate with a team or with clients at your convenience.
Our plug and play offices give you the flexibility to customize your own configuration and choose from a variety of different locations within our Ballantyne Corporate Park building in different sizes to suit your needs.
With our plug and play option, you have a private, furnished office that's ready to go whenever you are to fully support your most productive workdays.
Coworking Space
When you want a luxurious coworking space, take advantage of our common area that spans over 8,000 square feet.
Our daily workspace features a variety of comfortable places to sit and work, and of course, access to our amenities such as commercial-grade Wi-Fi, color copier, printer, scanner, and fax. We also feature two kitchens that are stocked with free beverages of your choice.
By taking advantage of our coworking space, you have 24/7 access a professional environment to get your work done for a low monthly rate with the option of taking advantage of our other amenities.
Additional Office Amenities
Both our plug and play office options and our daily coworking space give you the option of adding virtual office amenities such as a live phone answering service, call transfer, and mail services including weekly mail forwarding or pickup.
We also supply on-site support for our clients to quickly and efficiently address any tech issues. Our clients have year-round access so we also provide security, free parking, and access to a pristine location for all who come to work with us.
Interested in learning more about what we offer in regards to workspace for your professional needs? Contact us at YourOffice-Ballantyne today to discover the cost-effective options available to you at beautiful Ballantyne Corporate Park!