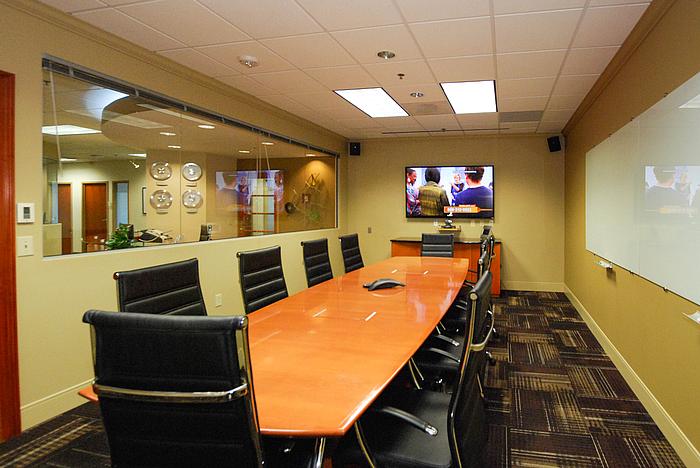 Need a space to hold a meeting in Ballantyne?  Once you've used one of our meeting spaces there's no turning back.  Our meeting spaces can accommodate anywhere from 4-40 guests and are wired with all the latest technology.  Our online booking feature also makes it easy to see what's available when, and it's a breeze to book.
Meeting Space Amenities
Free WiFI – fast, free & secure
Location -Conveniently located in Ballantyne
Kitchen – Free Beverages & Catering Services Available
Business Needs – Fax, Scan & Copy
Secure Access – 24/7 secure access. Tripe Checkpoint security
Meeting Spaces Available
Day Office
The Day Office is the perfect business ready, private meeting space.  A hands free speaker phone and hi-speed internet make it the prime choice for closing deals.  Available for up to 4 people.
Interior Conference Room
The Interior Conference Room is ideal for  small team, client meetings, brainstorming & planning. A 50″ display for multi-media presentations, a white board and hi speed internet provide an intimate meeting space perfect for digging in. Available for up to 6 people.
Exterior Conference Room
The Exterior Conference Room is also available for up to 6 people but comes fully equipped with a 53″ hi-def wall mounted LCD display. It's perfect for small client & team meetings.  The natural light and views make it the ideal setting for sales and presentation meetings.
Boardroom
The Boardroom is the perfect venue for executive meetings, sales presentations and larger client meetings.  The custom built conference table with power makes connecting easy.  A hands free speaker phone and 70″ wall mounted display make it the ideal for every type of meeting for up to 12 people.
Seminar Room
Need a space for a large gathering? The Seminar Room can hold up to 40 people which makes it the perfect venue for gathering like training and public speakers.  Equipped with a wall-to-wall whiteboard, 100″ projection screen and mounted speakers.  It can also be configured a number of different ways to fit your meeting style.
Meetings in Ballantyne
Ready to have your next meeting in Ballantyne?  Our different meeting room options can accommodate a wide variety of people to fit any occasion.  Contact us to day for a tour or easily book online.