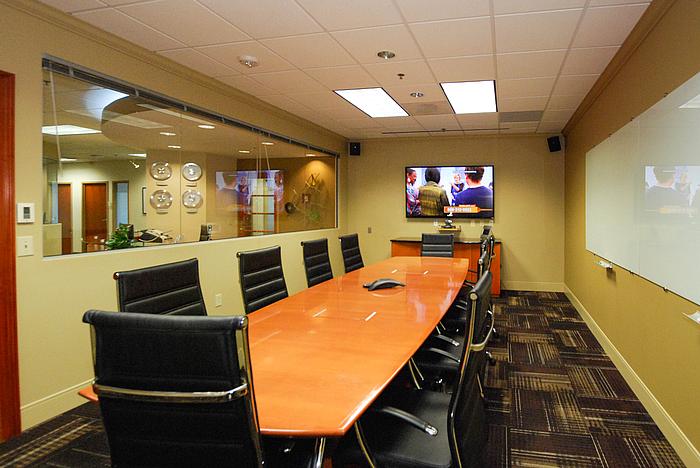 South Charlotte is the perfect place for your business meetings. Located in the upscale Ballantyne neighborhood of Charlotte, YourOffice-Ballantyne is designed to provide you with professional, affordable meeting space that's ready to use.
In today's competitive workplace, maintaining your focus is essential to making the right first impression, landing a client, or brainstorming solutions with colleagues. When you need a professional meeting space, skip the coffee shop and make the meeting matter with YourOffice-Ballantyne's office space.
Built for Your Business
YourOffice-Ballantyne understands the importance of having everything you need for your business at one location. We were created with your business in mind, no matter your industry. With technology to handle a simple video conference to a multi-media presentation for a room full of people, we've got you covered.
In fact, our professionals do all the prep work for you to ensure your meeting space is ready upon your arrival. You won't need to troubleshoot technology at the last minute or search for equipment. Our flat screens, commercial-grade high-speed WiFi, white boards, projectors, and impeccable furnishings are ready for you and your guests.
YourOffice-Ballantyne also offers both on-site and remote IT support should a problem ever arise so you can resume your meeting as quickly as possible.
Flexible Meeting Space for Your Convenience
Our available meeting spaces in South Charlotte are designed to be flexible for your convenience. We offer day offices for a quiet, professional place to meet for you and up to three additional people.
When you need a larger space, our interior and exterior conference rooms can hold up to six people and are perfect for team meetings. If you need space that's even larger, our boardroom has the capacity for you and eleven of your colleagues and our seminar room can hold up to forty people for your larger presentations or trainings.
No matter what your business needs, let YourOffice-Ballantyne provide you with efficient meeting space in a respected South Charlotte location that every professional can appreciate.
What We Offer 
Our convenient meeting spaces are designed to support your business goals. From our virtual offices to our receptionist services, we make every effort to ensure your needs are met with us.
To learn more about our meeting spaces, give us a call at 704-266-1595 to schedule a tour. We'd love to show you just how accommodating YourOffice-Ballantyne can be for your meetings in South Charlotte!